THE RULES OF WAR
A king in the ancient world led his army to fight the enemy on an open battle field. .The army waited for a signal to begin. There were few surprise attacks and no battles after dark.

PRISONERS OF WAR
Enemies of the pharaoh were always shown with their hands bound or handcuffed.


CLOSE COMBAT

Daggers and short swords were deadly weapons for hand-to-hand fighting at close quarters. The blades were riveted to the handles.

CEREMONIAL AXE
This ceremonial axe belonged to the pharaoh Ahmose.
The bade shows scenes celebrating his success in driving the Hyksos out of Egypt.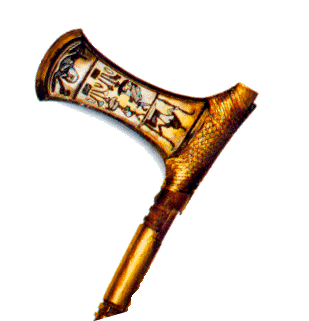 "GOLD OF BRAVERY" FLIES

Flies like these ones were given as rewards for attacking the enemy again and again.